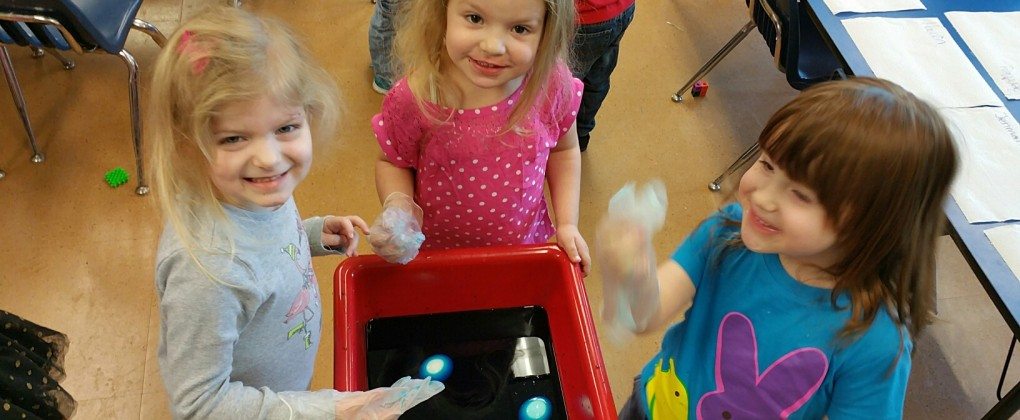 The child care program is designed to meet the developmental needs of children 6 weeks to 6 years of age. It provides a warm and loving environment in which your child can grow mentally, physically, socially, and spiritually. Within the program's daily schedule, each child has opportunities to create, learn problem-solving and personal interactive skills, and learn concepts through first-hand experiences. We believe that every child is a unique creation of God with special talents and capabilities, and as such, has immeasurable worth to himself and society. Learning experiences will be provided in an atmosphere of love, acceptance, consistency, and fun that will help stimulate the child's natural curiosity and desire to learn.
For more information contact Molly Hunt at [email protected]
The YMCA offers a licensed child care center that follows state guidelines for children 6 weeks to 6 years. The Program is open year-round 5 days a week from 6:30 a.m.-5:30 p.m., only closed on major holidays and the week of July 4th. The program is led by trained loving staff. All Head Teachers have their CDAs and are trained in CPR and First Aid. All staff has been federally fingerprinted.  Activities include preschool lessons with a planned curriculum for all ages, playtime in our well-furnished outdoor play area, arts and crafts, music, and much, much more. Breakfast and lunch are served daily along with afternoon snacks.
 Full or part-time openings are available. Enrollment is limited!
Complimentary YMCA Family Memberships are provided to families who have children enrolled full time or two or more part-time children enrolled at the Randolph County Y Childcare
Costs: $160.00/wk (full time for infant children), $150.00/wk (full time for children 1 or 2 years old), $140.00/wk (full time for children 3 and older), $85.00/wk (2 days, for children 3 and older only)
All Child Care programs also include a non-refundable registration fee of $30.00
Beynon Childcare and Union City Childcare
Follow all state licensing rules and regulations.
Both facilities participate in Paths to Quality – Indiana's quality rating and improvement system for childcare.
Both facilities participate with First Steps – Indiana's early intervention program that provides services to infants and toddlers from birth to third birthday who have developmental delays or disabilities.
The Union City Childcare participates with Help Me Grow – Ohio's evidenced-based parent support program that encourages early prenatal and well-baby care, as well as parenting education to promote the comprehensive health and development of children.
Both facilities participate in CACFP – The Child and Adult Care Food Program, which is a federal program to ensure nutritious meals and snacks for children and adults who are enrolled for care at participating childcare centers.
Aide teachers must be 18 years of age and must complete 20 training hours annually.
Lead teachers must have CDA (Child Development Accreditation) or be enrolled within one year of becoming a lead teacher.
Lead teachers must complete 20 training hours annually.
Aide teachers and Lead teachers must have safe sleep training and CPR/First Aid training.
We are hiring ✨🍎
The Randolph County YMCA Childcares are hiring! Join us in a positive, engaging environment where you will be actively involved in children's education, care and day to day needs. Come work with staff who put children's care at the highest level. We offer benefits such as paid schooling, discounts off of staff childcare and insurance! We deeply care for our staff & are so excited for you to join us. Please click on the link below to apply!
In accordance with federal civil rights law and U.S. Department of Agriculture (USDA) civil rights regulations and policies, this institution is prohibited from discriminating on the basis of race, color, national origin, sex (including gender identity and sexual orientation), disability, age, or reprisal or retaliation for prior civil rights activity.
Program information may be made available in languages other than English. Persons with disabilities who require alternative means of communication to obtain program information (e.g., Braille, large print, audiotape, American Sign Language), should contact the responsible state or local agency that administers the program or USDA's TARGET Center at (202) 720-2600 (voice and TTY) or contact USDA through the Federal Relay Service at (800) 877-8339.
To file a program discrimination complaint, a Complainant should complete a Form AD-3027, USDA Program Discrimination Complaint Form which can be obtained online at: https://www.usda.gov/sites/default/files/documents/USDA-OASCR%20P-Complaint-Form-0508-0002-508-11-28-17Fax2Mail.pdf, from any USDA office, by calling (866) 632-9992, or by writing a letter addressed to USDA. The letter must contain the complainant's name, address, telephone number, and a written description of the alleged discriminatory action in sufficient detail to inform the Assistant Secretary for Civil Rights (ASCR) about the nature and date of an alleged civil rights violation. The completed AD-3027 form or letter must be submitted to USDA by:
mail:
U.S. Department of Agriculture
Office of the Assistant Secretary for Civil Rights
1400 Independence Avenue, SW
Washington, D.C. 20250-9410; or
fax:
(833) 256-1665 or (202) 690-7442; or
email:


[email protected]
This institution is an equal opportunity provider.