Team Building Challenge Course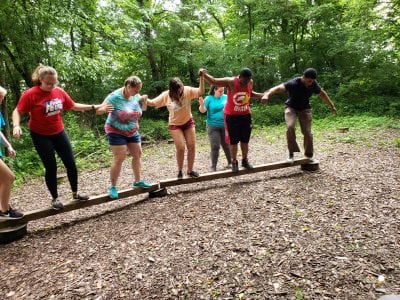 The Challenge Course consists of 17 elements. At each element, a facilitator presents the group with a "problem" to be solved, and the "tools" to meet the challenge. However, the group must figure out on their own how to proceed and devise their own solution.
Challenges can only be completed through teamwork, problem solving, and great communication.
Zipline

Can you imagine flying through the air? That is exactly what you will be able to do when go down our zipline! You will launch yourself forward down the zip line. This is truly an exhilarating experience designed to help you overcome your fears and have a great time!
---
Climbing Wall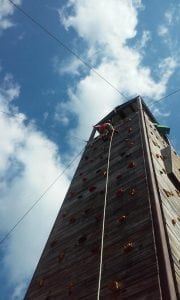 It is you against the wall! You have an opportunity to conquer this 50 foot tall rock climbing wall. This will test your perseverance. It is fun, unique experience that will create great memories for years to come.
---
The Trails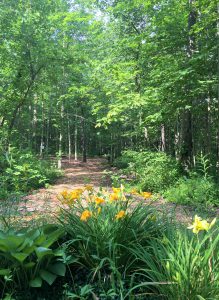 Two miles of woodland trails begin at the gathering area. Trails are blanketed with wood chips and weave near our challenge elements, past the tower, to the pond area and beyond. One mile of the trail system has native tree and wildflower identification for a relaxing educational experience.
---
The Pond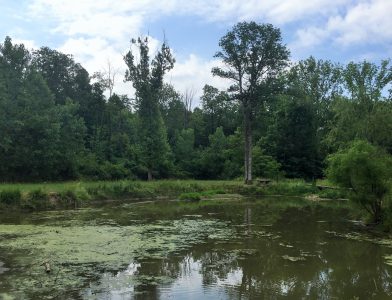 Our pond area is an oasis of relaxation for Camp Slingshot. This open grassy area with a fully stocked, 1-acre fishing pond is surrounded by woods. It is an ideal setting for catch and release fishing, overnight tent camping, and relaxing with friends.
---
Shelter House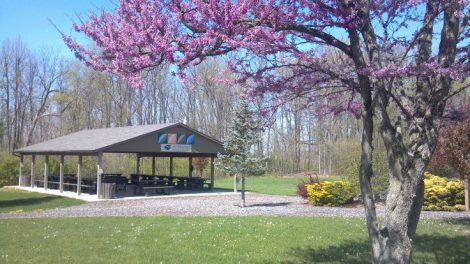 Our shelter house with picnic tables and cooking grill (available for rent)
Bonfire pit & campfire area
Great for camping
Shower and bathroom facilities
Organized groups are briefed in this area prior to beginning the challenge course.