The 50-foot Climbing Wall

Participants receive a safety briefing and are fitted with harnesses prior to the 50-foot climb. As you prepare, you are harnessed to a state of the art auto-belay (safety) system. If at any time during the climb you lose your strength, simply push away from the wall and the cable gently lowers you safely back to the ground.
This is an individual activity designed to build confidence.
 Zipline
 
Climbing to the top of the tower, you are secured to a specially designed pulley system and harness, which is attached to the zip line cable. When you are ready, you tell the Tower Facilitator standing next to you at the top of the tower. The Facilitator then goes through a verbal safety checklist with the Ground Crew and when both agree it is safe, you are allowed to launch yourself forward and down the zip line.
This is truly an exhilarating experience designed to help people overcome their fears or just have a great time.
---
Challenge Courses
The Challenge Course or ROPES Course consists of 15 elements. At each element, a facilitator presents the group with a "problem" to be solved, and the "tools" to meet the challenge. However, the group recieves no guidance on how to proceed and must devise their own solution.
Challenges can only be met through teamwork.
A few of the elements include:
Spiders Web – Builds trust, problem solving, communication, and cooperation skills.
Australian Trolley – Participants learn goal setting and when to lead and when to follow.
Poison Peanut Butter Pit – Participants learn problem solving, when to follow when to lead, and material allocation.
Traffic Jam – participants learn problem solving and communication while experiencing high frustration.
Incomplete Bridge – participants learn to improve their problem solving skills, communication, and idea sharing.
---
The Trails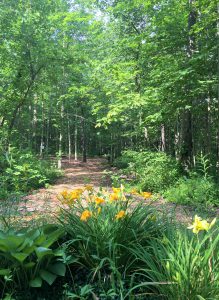 Two miles of woodland trails begin at the gathering area. Trails are blanketed with wood chips and weave near our challenge elements, past the tower, to the pond area and beyond.
One mile of the trail system has native tree and wildflower identification for a relaxing educational experience in horticulture.
At the northern edge of the property, the trails lead to our archery area – a supervised activity. Returning south, you can take the western trail past additional challenge elements back to the gathering area.
---
The Pond
Our pond area is an oasis of relaxation for Camp Yale.
This open grassy area with a fully stocked, 1-acre fishing pond is surrounded by woods. It is an ideal setting for:
Catch & release fishing
Model sailboating
Outdoor games, such as volleyball, badminton, Frisbee tossing, flag football and more
Picnics and gatherings with family and friends
RELAXING
Organized groups can use this area for overnight tent camping.
---
Our Gathering Area
Our shelter house with picnic tables and cooking grills (available for rent)
Bonfire pit & campfire area
Great for camping
The Camp Yale offices
The shower and bathroom facilities
Organized groups are briefed in this area prior to beginning the challenge course.